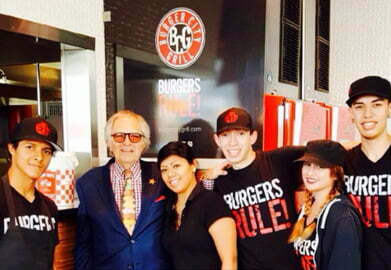 Dandy Don's HomeMade Ice Cream
We serve ice cream and sorbet to over 100 restaurants, hotels, and country clubs in the Los Angeles area. Great chefs and pastry chefs trust us to make their desserts something special.
Click here to see the list of our clients.
A few of them are Café Bizou, Crustacean, Fairmont Miramar Hotel, Fred 62, Post & Beam, Restaurant Christine. anchor.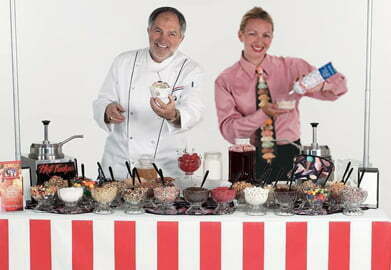 Dandy Don's Sundae Bar Catering
We serve hot fudge sundaes, shakes, floats, splits and more to corporations, television and movie sets, and private parties. We bring our homemade ice cream sundaes with up to 35 toppings to "The Tonight Show with Jay Leno", The Walt Disney Company, Comedy Central, USC, and the Concern Foundation charity.
Dandy Don's Pints
Our pints are sold in a few select markets in the L.A. area. Click here for the complete list. Flavors available in pints include Vanilla Bean, Cappuccino Crunch, Strawberries & Brown Sugar, Banana Cream, Green Tea and Mandarin Orange Chocolate.
Yes, Virginia, there is a Dandy Don. He sits quietly in his office smoking a cigar as you read this. So who is he? Below you can read the biography of this man and the company he built. Don Whittemore is a funny man with a huge personality who loves to make people happy. Good thing he makes ice cream, huh?
Once Upon A Time (circa 1962 – 67), Don was a stand-up comedian. He worked under the name Don Harris in Atlanta, Miami Beach & Newport, KY. (Check out his snazzy tux in this ancient head shot.) If you have some free time one day, ask him to tell you some jokes.
The next part of this biography starts just after that but still long long ago, in the Time Before CDs. Don was in the record business. He convinced DJs to play records by Frank Sinatra, Elvis, The Beatles, David Bowie, and Cat Stevens (to name a few). Some of those records went gold. Here's a photo of him with New York disc jockeys Wolfman Jack (on the left) and Murray The K (center).
In the late '70s, Don decided to leave the record business for good. Too much temptation for a family man, he thought. And too few creative DJs.
In 1981 Don and his lovely wife Linda (pregnant with their second child) bought an ice cream shop in Tarzana, California called The Creamery. They thought it would be a gold mine. They were wrong. So they worked their keesters off, got into the wholesale business, and began a catering division. These are photos of Don (photo on the left, 3rd from the left) and Linda (photo on the right) at one of their first hot fudge sundae bar catering gigs at the Directors' Guild of America. This is how the catering division of their company—now with over 1,000 customers—got its start.
They no longer have The Creamery, or any retail shop. But they have begun putting their homemade ice cream into pints, so once again regular folks can buy their product retail. Funny how things come full circle, even if they do take 20+ years. Don's favorite part of doing business is dealing with people. He loves talking to his clients, making ice cream with them, and helping them promote their businesses. He loves selling his ice cream to new clients, finding out what they want, tempting them with great service. He just loves people. And he loves making people happy. Good thing he makes great ice cream.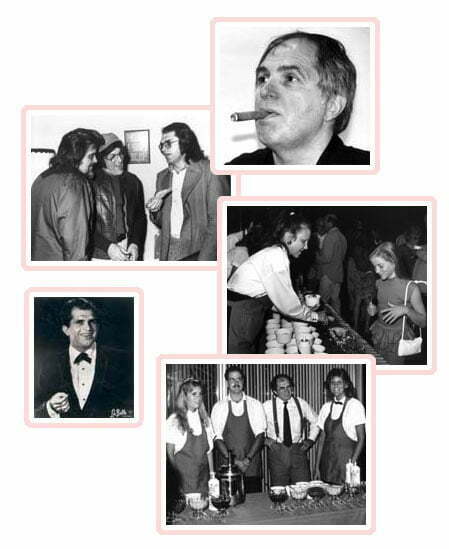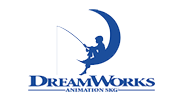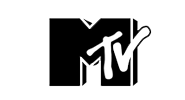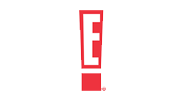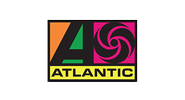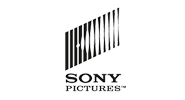 Entertainment Clients — Productions
"24"
"Access Hollywood"
"Barbershop"
"Big Brother"
"Criminal Minds"
"Crossing Jordan"
"CSI: Miami"
"Desperate Housewives"
"Dr. Phil"
"Grey's Anatomy"
"Heroes"
"House"
"How I Met Your Mother"
"Invasion"
"Kitchen Confidential"
"Parks & Recreation"
"Raines"
"Reba"
"Scrubs"
"That 70's Show"
"The Gary Bryan Show"
"The King of Queens"
"The O.C."
"The Tonight Show – Jay Leno"
"The West Wing"
"Unfabulous"
"Up All Night"
"What I Like About You"
"Will & Grace"
Entertainment Clients — Companies
ABC Television
Atlantic Records
American Public Media
CBS Productions
Clear Channel Entertainment
Columbia TriStar Television
DreamWorks Animation
E! Networks
Fox Television Studios
Hollywood Center Studios
Home Box Office
International Creative Mgmt.
John Wells Productions
Movielink
MTV Networks
National Public Radio
NBC Studios
Nickelodeon Animation Studio
Paramount Pictures
Premiere Radio Networks
Raleigh Studios
Rhythm & Hues
Sony Pictures
Studio City Matinee
Touchstone Television
Turner Television
20th Century Fox Studios
UPN-United Paramount Network
Warner Bros. Pictures
Warner Bros. Records
WB Television Network
*Allen Matkins Leck Gamble & Mallory
*Arnold & Porter
*Atkinson Andelson Loya Ruud & Romo
Barger & Wolin
Brian Reiss
Bryan Cave
Caldwell Leslie Newcombe & Petit
Cap Gemini Ernst & Young
Christie Parker & Hale
Cruz & Associates
DeWitt Stern of California
Dressler Rein Evans & Sestanovich
*Ernst & Young
Esquire Deposition Services
Floyd Skeren Kelly & Kavinoky
Foley & Lardner
Ford Walker Haggert & Behar
Frandzel Robins Bloom & Csato
*Frankel Lodgen Lacher & Golditch
Fried Frank Harris Shriver & Jacobson
*Fulbright & Jaworski
Gipson Hoffman & Pancione
*Good Swartz Brown & Berns
Greene Broillet Panish Wheeler
Hall & Partners
Hancock Rothert & Bunshoft
Hansen Jacobson Teller Hoberman Newman
*Heller Ehrman White & McAuliffe
Hill Farrer & Burill
Hogan & Hartson
*Howrey Simon Arnold & White
Hughes Hubbard & Reed
*Irell & Manella
*Jeffer Mangels Butler & Marmaro
Jenkens & Gilchrist
*Jones Day
K & R Law Group
*Kaye Scholer
*Kirkland & Ellis
Kirkpatrick & Lockhart Nicholson Graham
Knapp Petersen Clark
*Latham & Watkins
Littler Mendelson
Louis Kravitz & Associates
*Manning & Marder Kass Ellrod Ramirez
*Mayer Brown Rowe & Maw
*Mayer Hoffman McCann
*McDermott Will & Emery
McKenna Long & Aldridge
*Moore Stephens Wurth Frazer & Torbet
*Morgan Lewis & Bockius
Piper Rudnick
*Moss Adams
Murchison & Cumming
*O'Melveny & Myers
Orrick Herrington & Sutcliffe
Pasich & Kornfeld
*Paul Hastings Janofsky & Walker
Piper Rudnick
Polk Prober & Raphael
Proskauer Rose
Provident Financial Mgmt.
Quisenberry & Kabateck
*Richards Watson & Gershon
Rogers & Associates
*Rothstein Kass & Co.
*Seyfarth Shaw
*Singer Lewak Greenbaum & Goldstein
Smith Barney
*Sobul Primes & Schenkel
*Solomon Ross Grey & Co.
*Sonnenschein Nath & Rosenthal
Stephan Oringher Richman Theodora
Stephenson Acquisto & Colman
*Stonefield Josephson Accountancy Corp.
*Strook & Strook & Lavan
Synergy Consulting
*Tanner Mainstain Blatt & Glynn
Weinstein Eisen Weiss & Rothschild
White & Case
Wood Smith Henning & Berman
*Ranked in LABJ's top 50 list
Medical & Pharmaceutical Company Clients
Anaheim Memorial Medical Ctr.
Beverly Hills Orthopedic Group
Cedars-Sinai Medical Center
Cypress Rehab Group
L.A. Cardiology Associates
Merial Animal Health Care
Meridian Heath Care
Mission Hospital
Northridge Hospital
PacifiCare Behavioral Health
Prestige Medical Corporation
St. Joseph Heritage Healthcare
USC Care Medical Group
Verdugo Mental Health
WellPoint
Acco Engineered Systems
Activision
Adapt Audimation
Adelphia
Altour International
American Exp. Tax & Bus. Svcs.
Amgen
BAE Systems
Baker Tanks
Balboa Instruments
Bank of America
Barkley Court Reporters
BioSource International
C & C Companies
California Supply
CareCredit
Carlson Wagonlit Travel
Chase
Cimarron Group
City National Bank
Container Supply
Cymetrix
Diodes Inc.
Driftwood Dairy
Duncan Aviation
Ecoline Industrial Supply Inc.
Federated Logistics
Filbur Manufacturing
FileNet
First Financial Mortgage
Fones 4 All
G & C Investments
Gehr Industries
GKK Works
Gold Coast Ambulance
Griswold Controls
Hamilton Sundstrand
Harley Davidson of Santa Barbara
Harman/Becker Auto. Systems
Help Group
Hitachi Power Tools
Insco Dico Group
J.T. Wimsatt
Jacobs Engineering
Jerde Partnership Intl.
John Paul Mitchell Systems
JPL
Key Information Systems
Kusar Court Reporters
L.A. Weekly
LexisNexis
LowerMyBills.com
Los Angeles Business Journal
Meissner Manufacturing
Mercer HR Consulting
MOCA, An Arrow Company
Mollenhauer Group
MonsterTrak
Munchkin Inc.
Natrol
Nick Alexander Imports
NMB Technologies Corp.
Nova Development
Office of Family Life
On Assignment
Paul Frank Industries
Pfizer Pharmaceuticals
Pink Ribbon Gifts
The Powell Company
Progressive Mgmt. Systems
Provident Financial Mgmt.
Sexy Hair Concepts
Shell Oil Company
Sonatech
Sterling BMW
Symantec
Syska Hennessy
Tangram Interiors
Thomas Safran and Assoc.
Time Warner Cable
Town & Country Credit
Toyota Corporation
Tracy Industries
USI of Southern California
Waterpik Technologies
WellPoint Pharmaceuticals
Whitmont Legal Technologies
Window Rock Enterprises
Yahoo! Media Group
Yahoo! Search Marketing Grp.
Property Management Clients
Alexandria Real Estate Equities
Apartment Assoc. of Greater L.A.
Arden Realty
Bardeen Partners
California Title Company
Capital Group
CarrAmerica Realty Corp.
Carlton Plaza
CB Richard Ellis
Century 21 Exclusive
Real Estate
Charles Dunn Real Estate
Coldwell Banker
Countrywide Home Loans
Cushman & Wakefield
Douglas Emmett
Equity Office Properties
Equity Title
Fidelity National Title
First American Title
Freddie Mac
Glen Oaks Escrow
Greystone Homes
Insignia/ESG
Investors Title Co.
Key Concierge
The Lakes at West Covina
Layton-Belling
Lee & Associates Realty
Lennar Homes
Los Feliz Towers
Luckman Management Co.
M. David Paul
Mani Brothers
Manulife Real Estate
Media Center Development
Metrociti Mortgage
MGM Tower
New Century Mortgage
Oakwood Apartments
Old Republic Title Co.
Orange Coast Title of L.A.
Pardee Homes
Parker Properties
The PRES Company
RE/MAX Above The Boulevard
RiverRock Real Estate Group
RREEF Real Estate Investment
Sea Ridge Homeowners Assoc.
Southland Regional Association
of Realtors
Standard Pacific Homes
Starpoint Properties
Thomas Properties Group
Tishman-Speyer Properties
Trammell Crow
Trillium Building
Trizec Properties
United Pacific Mortgage
W.M.C. Mortgage
Warner Corporate Center
Watt Commercial Property
West Coast Escrow
Westfield Corporation
Young Realtors
Financial Company Clients
Bank of America
City National Bank
Commonwealth Land Title
Ernst & Young
First Capital
First Financial Mortgage
Priority Capital
Washington Mutual
WesCorp Federal Credit Union
Caterer & Event Planner Clients
20th Century Fox Commissary
A Shine Production
Alex Molina Catering
Along Came Mary! Productions
Ambrosia Productions
Back On Broadway
The Best BBQ & Catering Co.
Bread & Butter Catering
Brickhouse Kitchen Catering
Bruce's Gourmet Catering
Cafe on Location
Catering Connection
Celebrity Events &
Celeb. A La Carte
Cheers Catering
Circle the Date
City Kitchen Catering
The Creative Gourmet
Dream Makers
Entertainment Express
Exquisite Events
The Fine Art of Catering
Food Fetish
Freeway Gourmet
Frisee Fine Catering & Events
Fun Food Catering
Geller Events
Godmother of Malibu
Good Gracious Events
A Grand Affair
Grand Events
Hines Enterprises
La Salsa Catering
Hold The Date
Hostess With the Mostest
It's Time for Kids
Joan's on Third
John Ceyland Craft Services
Kensington Caterers
Laurel & Party
M & J Food and Party
Merrymaking Parties
Michael's
My Sister & I Catering
New Frontier Espresso Bar Catering
Nick Mello Design Events
Off The Wall Catering
Over The Top Productions
Paragon Catering
Parties At Your Door
Parties by Celebrations
Parties Plus
The Party Company
Party Designs by Carol
Party Planners USA
The Party Factory
Pasadena Conference Center
Personalized Parties & Events
Pink's Hot Dogs
Poko Event Productions
Powell Catering
The Proper Image
Renaissance Catering
Rick Royce Catering
RSVP Catering
Sacks Productions
Serves You Right Catering
Skirball Cultural Center
Smash Events
Someone's In the Kitchen
Soup to Nuts
SpitFire Grill
TCB Catering & Special Events
Team Play Events
Warren Works Catering
Wayno's Catering
Zebra Entertainment